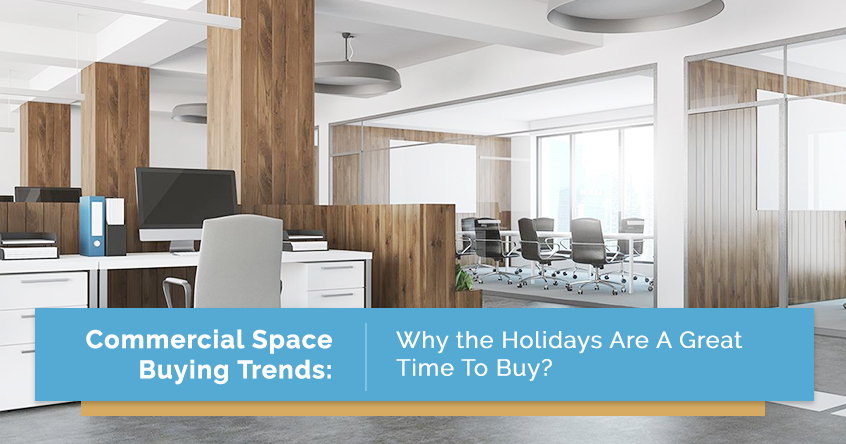 Commercial Space Buying Trends: Why the Holidays Are A Great Time To Buy
When the holiday months of December, January and February roll around, savvy business owners know that there are plenty of commercial office space rent and purchase deals just waiting to be scooped up. In fact, the coldest months of the year are the perfect time to buy property for your business needs.
You may notice something if you drive through local business districts during the holidays. There many signs in windows saying, "Commercial Space for Rent" and "Commercial Office for Lease." The real secret, though, is that many of those properties are also for sale, even if the signs don't say so. You need only inquire by calling the phone number listed and asking if the property is on the auction block.
But the best way to identify all these "invisible" deals during the best shopping season for commercial property is to connect with an experienced broker. A professional who knows the local area will have a fully developed listing of what's up for sale, what's already been purchased and what properties are likely to come available soon. Once you team up with a pro, it's helpful to understand why the holidays are the perfect time to purchase commercial properties.
Here's a quick look at why the coldest time of the year brings out the very best bargains in the commercial office market:
You see what the property really looks like: During the warmer months, it's easier for sellers to "spruce up" the property and make it look better than it is. They can add landscaping touches and other small tweaks to improve the curb appeal of the place. Plus, sunny skies and warm weather tend to improve the overall appeal of just about any property. Think about this: most of the infrastructure components like windows, HVAC, plumbing and insulation face their toughest challenges during winter freezes. When you shop and buy during that time of year, you can see first-hand how well the place is holding up. You won't have to take the seller's word for it.
The truth of the real estate market is that "staging" is a major part of the selling process. Most sellers of commercials property know all the ways to make their property look great when the temperatures, and general climate, are agreeable. But during the depths of winter, it's hard to make temporary cosmetic improvements to entice buyers. In cold weather, what you see is what you get.
Sellers are desperate to bargain: If you're looking to make an offer on the lower end of the price spectrum, winter is the time when you have the best chance of succeeding. Why? Because the majority of sellers tend to wait until March or later to list their properties. They know that the potential number of buyers soars during that time.
However, when you see a seller who lists properties during the winter months, you can safely translate it as an act of despair on the part of the seller. Basically, they say, "Hey, I couldn't wait until spring because I need to sell immediately. Make me an offer!" If you want to deal with sellers that are more likely to accept low offers, doing business during the coldest season of the year is the smartest move you can make.
The competition is at its lowest point: in addition to the "motivated" sellers, as noted above, it has a related advantage when buying a property in winter: much less competition from other buyers. One of the main reasons why sellers usually wait until warm months is because they know that most buyers are busy with family functions such as Hanukkah, Christmas, meetings and New Year celebrations. Most potential buyers simply do not want to deal with "buying properties" during the holiday months. The attitude seems to be: "I will only wait until the weather improves a bit and the New Year is on its way."
 This helps you in several ways. On the one hand, you will not bid against so many other potential buyers. And because corporate spending cycles are at a low level, it won't compete with larger buyers either. The search for office space during the holidays is beneficial for anyone who chooses to take advantage of this unique shopping opportunity.
Why Holiday Buying is a Smart Move
In addition to getting the best prices on your ideal commercial property space, buying during the holidays makes sense for a few other reasons. Of course, a low price is a huge plus for any business owner, but consider the following points about what else you get when you purchase commercial space during the holidays:
A seasonal advantage: Moving in early in the year means you'll be able to start up operations right at the beginning of the new economic cycle when the weather is turning warmer and consumers start spending money. "New Year's Grand Openings" typically take place throughout the entire month of January, so an early-in-the-year property purchase can mean a boost for your sales figures. as well.
Time to slide into the next economic cycle: If you buy a property in the "dead of winter," you will have a nice cushion of time to ease into the year and do any touch-up work, like interior painting, landscaping, buying furniture and getting the place exactly as you want it to look.
Bargains on office supplies, services and more: if you need to buy office equipment, hire local painters, bring an interior designer or anything else, you will have low winter prices on your side. Most of the local professionals who serve commercial offices are happy to offer winter discounts. You are likely to get very low prices on things like computers, refrigerators, cleaning supplies and a wide range of typical services and supplies.
Let the Professionals at Macy Newman Find Your Perfect Commercial Space
When you need commercial space in Dallas, TX and you're ready to get the best deals on price and selection, contact Macy Newman. Our team of highly qualified experts can help you find excellent vacation deals based on your exact needs because we have access to more listings than anyone else. We even have an inventory of private properties that nobody else has.
At Macy Newman, we can help any buyer identify and purchase commercial property. Call us today at 972-392-3611 and let our experienced team go to work for you. We also have the capability to initiate and lead the design-build process if you wish. And, it doesn't matter whether you want to renovate or build an entirely new property.
We have the knowledge, experience and local connections to satisfy all your commercial office needs, no matter how exacting they are. Our team takes every detail into account when beginning a search. That means we'll find a property for you regardless of your budgetary constraints, location preference, special features or length of lease you require.
Our local office is located at:
5910 N. Central Expressway,
Ste. 1875, Dallas, TX 75206
We welcome your inquiries by email, phone, via our website or in person if you choose to stop by our Dallas office. As always, it's our distinct pleasure to assist you in any way we can. Happy holidays.