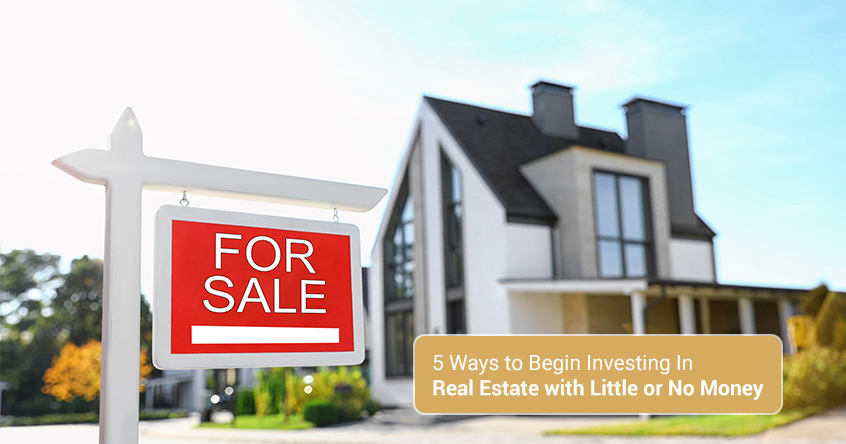 5 Ways to Begin Investing in Real Estate with Little or No Money
There's no doubt about it: investing in real estate is one of the best ways to secure your financial future. Unlike other potential investment avenues, real estate typically appreciates, keeps up with inflation, and provides steady cash flow. Plus, it provides a high return on your investment over time while helping you build equity through debt reduction.
It's a no-brainer!
Of course, there's one caveat. Commercial real estate investment in Dallas, Texas, takes money. As the saying goes, "You have to have money to make money." But what if you can start your real estate journey without making a huge upfront investment?
Turns out, it's easier than you think! Here's how to make money in real estate with no money.
Use a Purchase-Money Mortgage
One of the easiest ways to dive into the world of real estate in Dallas is to secure a Purchase-Money mortgage. These financial transactions are very unique because they don't involve a traditional bank.
When you normally purchase property, you have to go to a mortgage lender. It's a complicated process that involves analyzing your financial situation. Unfortunately, not everyone is going to qualify for standard mortgages. Maybe your credit history is holding you back or the income from your current day job is preventing you from getting enough financing for the property of interest.
A Purchase-Money mortgage allows you to get around those obstacles. This is, essentially, a mortgage financed by the seller of the property. Not all sellers are willing to make this agreement. If you'd like to go this route, go to an established firm that specializes in commercial real estate investment in Dallas, such as Macy Newman.
This mortgage operates similarly to financing from a standard lender. You have to make monthly payments, provide a down payment, and follow the terms of your agreement. However, it's far more accessible to those with little to no money. Here are some situations where it can be beneficial:
If you're unable to qualify for a traditional mortgage
You're assuming the seller's existing mortgage
If you want more flexible payment options
When you're looking for a lower down payment and closing costs
Try Lease Options
Here's another good option for those who don't want to go through a bank. Like a Purchase-Money mortgage, you're working directly with the seller. However, this method involves holding off a bit on the direct purchase of the property.
A lease option is also known by many as a "rent-to-own" scenario. You're paying monthly rental fees to use the property how you want. But a chunk of that rental amount is going to the purchase price of the property.
In most cases, sellers will charge a monthly or yearly premium to channel toward the purchase of the property. This will increase the monthly fee. But you'll be able to take ownership of the property faster.
Find an Investor
How can I invest in property with little money? Well, just use someone else's money! Investment relationships are far more common than you think.
If you have something to bring to the table, such as the ability to manage or flip the property, you can find an equity partner who will fund the purchase. Investors are willing to put that money down if there's someone else who will do the work. For wealthy investors, it's an easy form of passive income.
Depending on the arrangement, you would cover renovation or management costs. Some investors will even pay for those as long as you put in the sweat equity.
Once the property becomes profitable, either through sale or rental, you and the investor will split the revenue.
Leverage Your Home Equity Loan
If you already own a piece of property, you can use it to your advantage. Whether you own commercial property in Dallas or you have your own home, it's possible to capitalize on the equity of your first property to fund the second.
This is an option many new investors use with their primary residence. You can find quite a few options out there. Most banks and lenders will offer a Home Equity Line of Credit, which is basically a revolving line of credit using your home as collateral. Some also offer a straight home equity loan. This is like a fixed second mortgage.
Both choices are good for real estate investment. You can use the loan amount to cover down payments. Once your second property starts generating revenue, you can use that money to pay off your loan.
Choose a Real Estate Investment Trust
This method will require some money. But, you can get your foot in the door for a lot less than what it would take to purchase property in Dallas. A real estate investment trust (REIT) is a form of financial investing that's modeled after mutual funds.
The trust is a company that owns, manages, and finances income-producing properties. Most of these corporations have a sizable portfolio of properties, making it a potentially lucrative source of income for investors.
REITs must distribute at least 90 percent of their taxable income to investors. Think of it as a dividend for traditional stock options! Those dividends are usually paid monthly or quarterly.
There are many different kinds of REITs available, including the following:
Residential
Retail
Private
Publicly traded
Equity
Mortgage
Healthcare
Office
Public non-traded
Hybrid
While you won't own any of those properties directly, you can leverage your knowledge about real estate to make some smart investment choices.
Let Macy Newman Help You Find Your First Investment Property
Whether you're looking to find that perfect retail location or you want to uncover a unique property that you can transform into office space, the professionals at Macy Newman have you covered. Our agents are well-versed in Dallas real estate. We specialize in commercial properties throughout the city.
We understand that making your first real estate investment is a big deal, so we'll work closely with you through every step of the process. Our agents welcome the challenge of finding that perfect piece of property. Not only will we present listings for safe choices, but we can also find those lesser-known jewels if you're interested in renovation or construction. We'll take your needs into account and use our network of connections to find the right Dallas property for you.
Contact Macy Newman today! Give us a call to speak with one of our property experts and start your real estate journey!