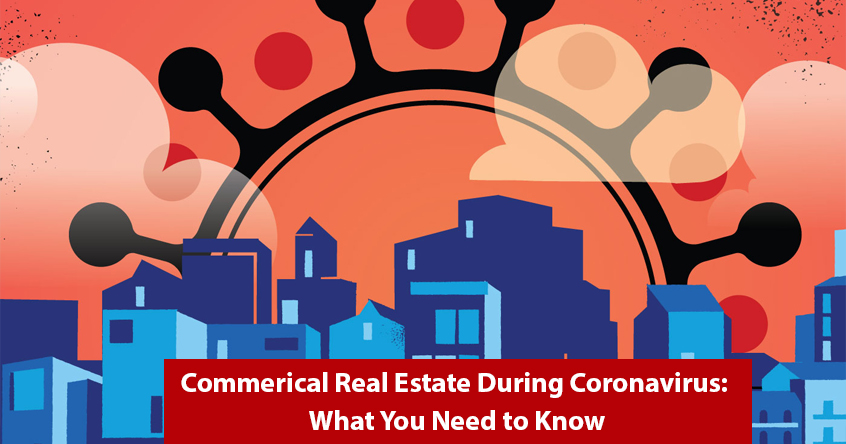 Commercial Real Estate During Coronavirus: What You Need to Know
Because the commercial real estate (RE) sector includes diverse components like industrial, retail, hospitality, and office properties, the industry as a whole has not been negatively impacted by the COVID-19 pandemic. Industrial and office spaces, for example, are seeing higher-than-usual demand.
The recent coronavirus pandemic has already sent shock waves through many sectors of the economy—hospitality, entertainment, restaurant chains, and many others have been hit hard. Other types of businesses, like grocery stores, pharmacies, online retail sellers, and digital entertainment have prospered.
Some Kinds of Property Are in High Demand
What about commercial real estate? Contrary to popular belief, it has not been hit as hard, as a whole, compared to many other economic enterprises. The reasons for survival of commercial real estate during COVID-19 are many. In a nutshell, this vibrant, essential piece of the national economy has hung in there, financially speaking, due to:
Typically long leases that are somewhat immune to a one- or two-cycle downturn
Diverse properties (losses in one area are offset by gains in another)
A large number of corporate clients who use commercial space for long-term storage
Owners with "deep pockets" who can withstand short-term losses and recoup profits later
A Sector-by-Sector Look at Commercial Property During COVID-19
Of the four major segments of the commercial RE industry, two (industrial and office) are doing very well and two (hospitality and retail) are facing some short-term challenges. Even in the parts of the market where demand is currently low, there's a good chance that structural changes to the economy will bring prosperity back to the commercial RE market as a whole. How is each component of the industry doing in the midst of the coronavirus crisis?
Industrial: This part of the industry is truly undergoing a transformation, in terms of adapting to e-commerce, the demand for speedy delivery, the need for exceptionally large warehouse space, low interest rates all over the world, and a seemingly endless demand for online goods. With more consumers ordering all kinds of products from home, industrial RE has entered an expected growth phase.
Office: Demand for office space is something of a mixed bag in terms of demand. For one thing, trends were already underway toward a transformation of this segment of the RE market, long before the COVID-19 virus arrived on the scene. Many more workers in multiple areas of the economy are working from home. However, there has been an increase in demand for smaller and shared office spaces, a trend that has nearly offset the shrinking part of this market.

During the next five years, business owners will be changing the way they use office space. Some will be sharing space with other owners in order to reduce rent expenses. Still others will use office space solely for the purpose of meeting clients or storing excess inventory.

Retail: The COVID-19 pandemic seems to have hastened a trend that was already underway in the retail RE market: declining demand. Several social and economic factors are at play here, principally the growth of home-based retailers, the decline of in-person buying for small consumer goods, and the entire e-commerce focus of new retail growth.
Hospitality: Hotels, casinos, and other hospitality-related spaces are probably suffering more than any other component of the RE market. Most analysts think that the current down-trend is directly connected to the virus lock-down and will make a fast turnaround once the crisis subsides.
Let Our Team Help You Prosper Even in Difficult Times
Contact our Macy Newman team of experienced professionals whenever you are in need of commercial space. We specialize in matching people with the exact type of property they're seeking because we have access to an enormous number of listings in every category of commercial RE.
No matter how particular your specifications are, we're happy to be of assistance. Simply call us at 972-392-3611 and we'll locate the ideal property for you. And if you prefer that we take charge of a design-build project, we're fully capable of renovating an existing property or constructing one from the ground up.
At Macy Newman, we have built a reputation for meeting client needs down to the most minute detail. We have decades of experience, a vast network of industry connections, and on-the-ground teams who make sure you find what you're looking for based on lease length, property specs, budget constraints, location, and financing options.
Our Dallas office is located at
5910 N. Central Expressway,
Ste. 1875, Dallas, TX 75206