How to Pick the Right Location for Office Space in Dallas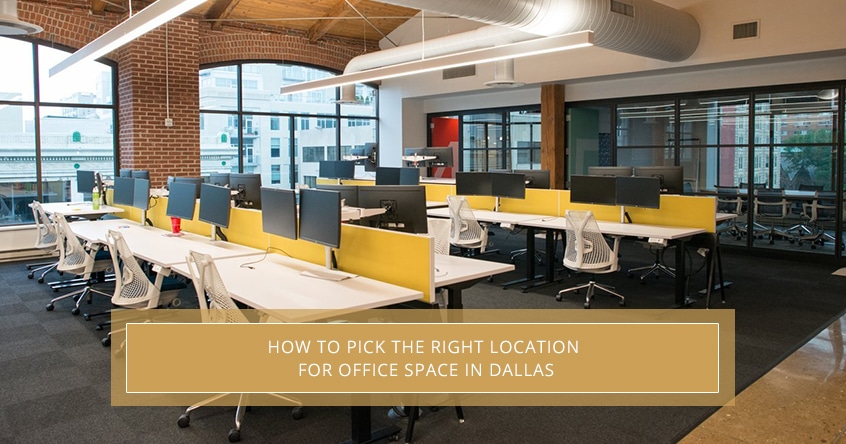 The Dallas Business Journal recently called the Dallas-Fort Worth real estate market "the one to watch in 2019." A booming real estate market heralds good news for all kinds of businesses.
While good news about the real estate market may be speculative, no speculation exists about how to run a business. Successful business owners make the right decisions on every level.
Proper decisions include choosing the right location for an office. Proprietors launching a new business or relocating an expanding business have several options for office space in Dallas. The choice has to be on target and deliver benefits to your company whether you're a solo-entrepreneur or searching for an office for a corporate headquarters.
What are some things to think about when looking for an office in Dallas?
Rent the Right-Sized Office
Errors in judgment regarding office size may turn out disastrous. Leasing an over-sized office with unnecessary space means paying for square-footage you don't use. On the other side, an overly small office doesn't impress visitors and even creates problems for people trying to work in cramped rooms. Take time to audit your office space needs and look for an office that fits your requirements.
Leases, Growth, and Relocation
What if your space requirements change? A business could require more or less office space depending on how things go during the year. When this happens, you do not have to break your lease or take on a second lease payment. Instead, ask a tenant representation broker to find you a better office space and sub-lease your first space. Alternatively, look for a building with multiple offices. Inquire about a contract that contains a relocation clause. That is, the person leasing retains the option to a new office under the same landlord. Exercising this clause may lead to a hassle-free move if the need arises.
Location Counts
Strategically placing a business near clients makes sense. Saving money on rent, but locating yourself too far away from clients often turns out to be more expensive. Likewise, ask yourself, "Is the site too close to competing or similar businesses? Could they be a drain on revenue?"
And of course, in Dallas, there are plenty of businesses that provide parking, so make sure you have adequate parking. Depending on your business, it may even be better to be near the DART.
Lastly, look for "helpful" unrelated businesses nearby. Do you need to take clients out for lunch often? Or would it be beneficial to have access to a coffee shop with a professional atmosphere?
Seek Well-Maintained Areas
If clients are going to walk up to your office's front door, will the journey impress them? The office space may look amazing, but keep in mind the overall first impression. Once you sign the lease agreement, you often inherit hazards like broken sidewalks and all their upgrade costs. Neighboring businesses that fall into a state of neglect aren't helpful either. The overall vicinity is a reflection of your business. Pick a locale that works for everyone's best interests.
Building-Supplied Added Features
Does the office space for rent or lease come with a front reception desk, security guards, on-site maintenance workers, mail sorting, or other features? The small added benefits that come with leasing or renting office space may be a big help for your company. Some features will impress clients while simultaneously cutting down extra costs and fees.
Take Your Time
Last, try not to rush. Unless you are under time constraints, be deliberate when choosing an office location. Take the necessary time to make the right decision, and seek professional advice from a tenant representation broker, so you can sign a lease with confidence knowing that you got the right office and a great deal.
Contact us Today if you are looking for Commercial Real Estate or Office Space in Dallas Texas.