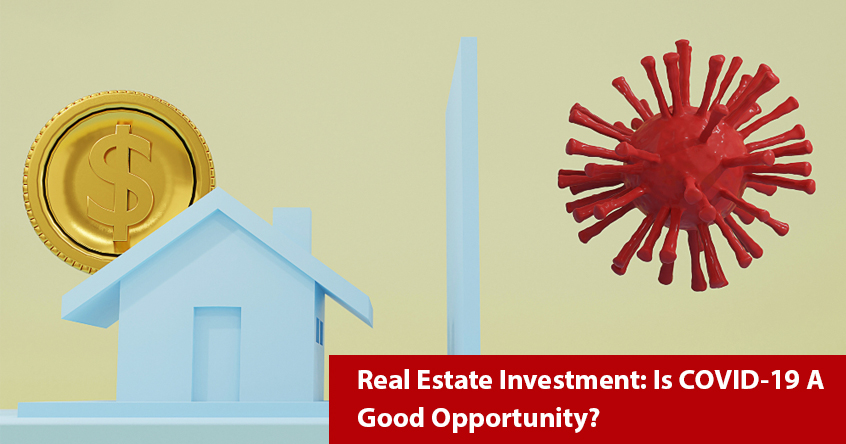 Real Estate Investment: Is COVID-19 a Good Opportunity?
Are you thinking about investing in real estate? The recent novel corona virus disease 2019 (COVID-19) pandemic has led many people to take a second look at opportunities in real estate investment based on the historic performance of this stable, attractive long-term market.
During recessions and times if high economic uncertainty, some investors see the chance for better-than-average returns because real estate is much less volatile than the securities markets. Plus, many potential buyers are made uneasy by the lack of competition.
What does that mean for you? It means that real estate investment during COVID-19 might offer the chance to earn solid returns on every dollar invested. A smart way to approach investing in real estate in times like these is to search for properties that have the potential for long-term appreciation but also feature steady current cash flow. For better or worse, people always need homes, even during pandemics and recessions.
Real estate investment during COVID-19 can be the right move for people who are willing to take the time to select the right properties and who know that investing is not a get-rich-quick scheme but a sound financial process that can take several years to show results. Knowing the kinds of markets to consider can make the difference between a wise real estate investment and an unwise one.
Study the Market and Be Patient
Initially, to achieve success with real estate investment during COVID-19, you'll need to spend time analyzing your target geographic markets. In addition, a healthy dose of patience goes a long way. Don't feel the need to force events; if you do your due diligence and find nothing, wait a week or two and begin again. Here are some commonsense guidelines to assist you in your real estate investment efforts:
Focus on Appreciation: One of the common pitfalls of investing is to focus on immediate cash flow rather than the "big picture," which is long-term appreciation in value. But there's a win-win situation available right now because the virus pandemic has led to higher demand for rental property as well as very low interest rates. This scenario is doubly good for investors because it means you can carefully choose properties that offer appreciation and cash flow advantages at the same time.

However, when there are no solid cash flow opportunities, it's usually wise to focus on appreciation. Short-term profits in the real estate sphere are both rare and risky. If you are looking to grow your wealth slowly, but more assuredly, opt for appreciation over cash flow whenever there's a choice between one or the other.

Do In-Depth Research: You'll have to put on your researcher hat to figure out some of the better investing opportunities in real estate. For example, stay fully informed about the state of the economy, your state's virus regulations, unemployment numbers, inflation rates, population changes in your state and city, hiring trends among local employers, and other pertinent data you can gather in internet searches. Everything that has an effect on where people will be and what kind of housing they will need is valuable for your overall goal.
Follow the Jobs: Where there are jobs, there are people seeking places to live. That means more renters and buyers will be in those geographic regions where the post-COVID-19 jobs pop up first. Use your common sense and do research to uncover places where factories are set to reopen after the end of lockdowns. Study local employment trends and find out what sectors are growing, where new office buildings are under construction, and where new shopping areas are going up.
Avoid "Burnout Zones": Some areas were hit so hard by the economic stoppage, if not by the actual illness caused by the virus, that they won't recover for many years. Read up on local areas that were economically decimated by the governmental response to the COVID-19 crisis. It's a good idea to avoid putting those areas on your map of investment opportunities.
Staying On Course
When you decide on the investing course that fits your financial goals, remember that the team at Macy Newman has the experience to help you identify properties that fit your particular investing criteria.
Once you have an idea of the types of property you're interested in and your overall budget, our team can work with you to pinpoint specific properties based on location, price, special features, and numerous other specs. Our experienced professionals know where to look and how to help you uncover unique investment opportunities even during challenging economic times.
We're always glad to be of assistance when you need help with your search, so feel free to phone us or drop by our Dallas office anytime. Our phone number is 972-392-3611 and our office address is 5910 N. Central Expressway, Ste. 1875, Dallas, TX 75206. And don't forget to visit our website for more details about what we do and how we can help you.