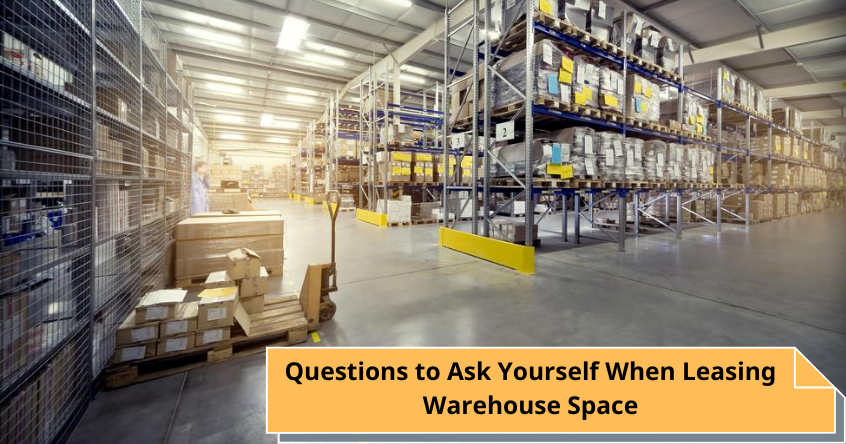 Questions to Ask Yourself When Leasing Warehouse Space
If you're starting the search for warehouse space to lease for your company, the task can seem overwhelming initially. Just like house-hunting for your next personal home, the list of things to do and look for is usually pretty lengthy. Luckily, the commercial real estate team at Marcy Newman is here to help! We have compiled the top five questions you should ask yourself when looking to lease warehouse space in the Dallas area. Stay calm and read on—we've got you covered!
#1. What is my timeframe? Timing is a huge factor in all aspects of real estate, both residential and commercial. Finding the right property at the right time is key. Fortunately, commercial spaces tend to sit a bit longer than residential homes due to their size and function. Before beginning your search for warehouse space leasing, consider what your timeframe is. When do you need to be able to move your business into the property? If you have an ironclad date that you need to be able to take occupancy, some properties may be ruled out immediately. What lease length are you looking for, or feel comfortable entering into? The idea of being locked into too long of a lease can cause some anxiety on both ends of the deal when looking for warehouse space for rent in Dallas. Have at least an estimated idea of the timeline you're looking at in order to streamline the search for spaces that meet those guidelines. Your real estate guru at Macy Newman can take it from there and get you on the road to rental.
#2. What is my budget? Money is always the main issue in real estate transactions—or any transaction for that matter. Have a clear number (or range) in mind that you can manage financially for warehouse space rent. Know what your absolute bottom line needs to be in order to avoid risking your business's financial well-being. Leave the negotiating to your Macy Newman team—your best interest is their main concern, and no detail will go unnoticed when acquiring the perfect property.
#3 What is my preferred size and layout?How big or small of a space do you need? Will you need office space in addition to the warehouse? What ratio of office space to warehouse space will you need? Do you need a certain ceiling height to stack product, or is that not an issue? Think about your business in terms of the present and the future. The size of space you need now may not stay that way. If your business grows, your warehouse needs will likely grow, too. Keep that in mind as you assess the size and configuration of a particular property in order to hammer out the best plan. Remember that no one knows your business and vision for expansion better than you. However, sometimes expressing that vision clearly to someone else may be challenging. The team at Macy Newman are pros at taking your list of must-haves and non-negotiables and matching you with the perfect space to meet your needs. They can assist you in determining how big of a space you need and what specifications the property must have in order to keep your company's operations running smoothly and efficiently.
#4 What is my desired location? Dallas is, of course, a huge city with tons of options for warehouse space to lease. You need to be familiar with which areas align with your industrial needs and preferred surroundings. Be open to exploring areas you may not be as familiar with. Do your research and, if possible, physically drive around or visit various spots to get a true feel of the area. You may be surprised at what you find—good and bad! Talk to nearby tenants or business owners and get their take as well. Your agent at Macy Newman will also be available and actively answering all of your questions, so you never need to worry about where you'll end up!
#5 What other costs will I incur with this property? Before you sell yourself on a specific location, be aware of extra costs, fees, or other terms that may come into play with the deal. As with all contracts, your commercial warehouse lease agreement will be chock-full of important details and possibly unforeseen conditions. Be thorough when reviewing all of the terms with your Macy Newman agent during all negotiations and communication. Run through what features a property needs to have, and which ones you can live without. For example, most warehouses do not come equipped with HVAC systems. The reason? Mainly size. Warehouses are very large spaces, and HVAC systems are costly to install even in smaller commercial spaces and residential properties. Determining what you need or can compromise on will also help narrow the scope of your search. Are there maintenance fees included with this type of lease? Are security and janitorial services provided, or are those extra items you'll need to budget for? What about natural disaster damage liability? Be prepared to expect the unexpected, as these times during a global pandemic have taught us! Be sure to discuss all of these issues with your agent prior to commencing your search for results that are specifically suited to your warehouse needs.
Ready to tackle your search for the perfect property to rent? Hopefully, this streamlined list has lightened your load as you gear up to search for the best warehouse space to lease for your industrial needs. Macy Newman is the premier source for commercial real estate in the Dallas area due to their fine-tuned expertise and world-class customer service. Reach out today to get started, or visit https://macynewman.com/ for more information on the services we provide.