Remember These Tips When Leasing Medical Office Space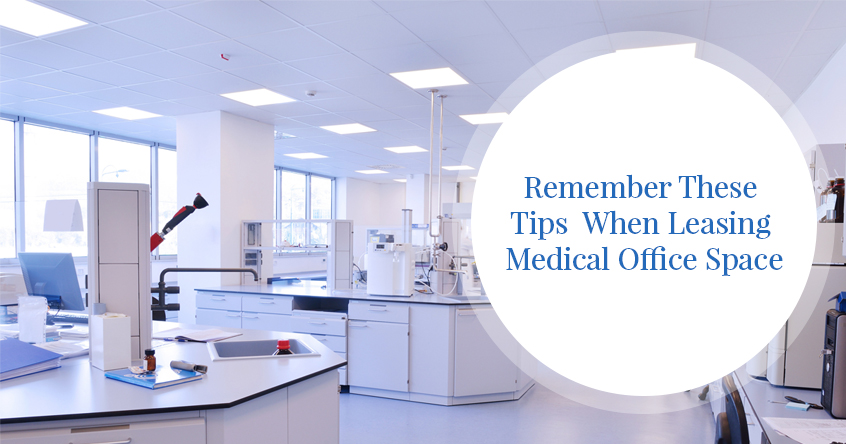 Where to Begin?
Whether you're an individual or small group looking for an office for lease, you should know about some of the tried-and-true due diligence strategies employed by the nation's top medical practices. Even if you are looking to solve your space problems or you are a huge practice that's been scanning every "medical office space for lease" posting you can find, to expand your practice, learn the basics, before signing on the dotted line.
There is a big difference between residential property leases and hunting for medical office space in Dallas. Office lease agreements tend to run longer than residential ones, cost more and require a lot more due diligence, which implies more potential pitfalls, too.
Proceed With Caution
When you spot a "medical office space for rent," or "medical office space for lease" sign online or on a billboard, you really don't know anything about the property or the person who's advertising it except for, possibly, an address and a company name.
That's not much to go on. Consider the following areas of consideration for each property you put on your short list. Take the time to ask yourself a few questions, evaluate each property based on crucial criteria and dig into the reputation of the company offering the arrangement. So, the next time you are tempted by a "medical office space for rent" or "office for lease" posting, use the list below as a jumping-off point for your due diligence process:
Do you know how much space you actually need?
It is essential that you have a very close approximation of how much space you'll need. This parameter is usually at the top of everyone's list and it is, sometimes, more than 10 percent off the mark. Having an inexact guess about your space needs will slow down the process considerably because brokers will show you properties based on what you ask for.
The Macy Newman team can assist you determining what the right amount of space will be for you, based upon your current practice and your future needs for growth. There's no reason to opt for an office that is too large or too small. Making an inaccurate estimate on this point is one of the most common challenges that medical practices face when searching for office space.
What is the real cost, as opposed to the "sticker price"?
In one way, commercial medical office leases are like car purchases. There's a sticker price and the "real price." Be wary of relying on the stated lease price because there are multiple add-ons that you'll be responsible for once the paperwork is signed. The most obvious concern here is conversion cost.
If you want to adapt or significantly change the leased space to accommodate your medical use needs, the expenses can be significant. Plus, most non-medical will not offer such a long lease term. That could mean spending money to reconfigure a space and then have a lease renewal pop up.
Is this the ideal location for your typical patient population and staff?
There's a huge trade-off in lease prices when it comes to medical office spaces. Suburbs offer lower rates but don't get walk-thru traffic and are a long drive for your patients and staff. While you might enjoy the lower lease "sticker price" and easy parking in, the suburban setting, urban properties typically are close to public transportation, the potential for walk-in business and lower rates.
Is the property ADA compliant?
ADA-compliance is a critical concern for medical offices. When you buy space, try to find one that is fully ADA-compliant. If not, or only partially, you will have to pay the cost of making the necessary updates to the medical offices. One way to avoid this pitfall is to use the knowledge of your broker.
You can do two key things. First, ask your broker to find ADA-compliant office spaces. Second, ask them to also include a few non-ADA-compliant spaces where the owner is willing to foot the cost of any, or most, upgrades. That way, you will have more properties to look at and you will not be completely hemmed by having to look at those that already comply with the ADA rules.
What is the ideal lease term?
This question is more complicated than most people think. When you ask about lease terms, find out whether the owner is offering extras, like free months, financial help with the cost of ADA or other improvements and more. Plus, when opting for a long lease you'll usually get the benefit of lower overall costs. But, there may still be high annual expenses that you will have to share with the owner. That is why it is crucial to find out each of the costs and expenses that you will face in addition to the annual lease cost.
Is there enough accessibility for your patients and staff?
In addition to the ADA considerations (listed above), you will want to investigate whether prospective properties include all the accessibility features your patients and staff need. Do some of your patients use wheelchair ramps? Is there a need for elevators? What about the electronic doors?
When it comes to staff convenience, is there enough parking and is the space safe enough for employees to walk to and from in the evening? Are handicap-accessible restrooms available for staff and patients? Accessibility pertains to a much wider field of a concern than just the narrow legal concepts of ADA law.
Do you need to be located near other medical professionals, clinics or hospitals?
If you want to be in or near a "medical campus", clinic or hospital, be sure not to jump into a low-cost lease that is far from other professionals and medical services. Being close to other doctors and referring doctors can generally generate enough income to compensate for a higher lease price that comes with a "campus" location.
What is the parking situation?
There's a general rule for how much parking you will need. For medical offices, try to have at least five parking spaces for every 1,000 square feet of office space. You'll also want to have a "drop off" zone where people can conveniently drive through a designated area and allow patients to walk directly into the office.
What do you need from your broker?
Whether this is your first of fifth medical office lease, there's a huge advantage to having a broker that specializes in medical space. That way, you'll have more bargaining power
with landlords when it comes to negotiating features like lease term, price, cost-sharing for built-outs, ADA issues, parking, and complicated lease terms. There is really no substitute for hiring a broker with this kind of specialized knowledge.
Does the lease allow for radiation and handling of bio-hazards?
Be ready to ask your broker for help in this area of concern. It's a fact that most commercial leases don't account for costs associated with the heavy shielding you might need if any of your equipment emits radiation. The cost will depend on you updating the property unless your broker knows how to negotiate this type of problem with the owners.
There is also the issue of standard biological hazards, how they will be handled, where they will be stored and how they will be collected. If the space you are considering is a conventional office, your broker will play a crucial role in solving these problems.
Will you need after-hours access?
Conventional office space typically restricts after-hours use for purposes of safety, legal liability and utility costs. If you consider a conventional space, be certain to discuss these topics with your broker. Some owners will not oppose the long hours you may need, but they will want some compensation for any additional utility costs.
Consider having a specific lease document prepared
Read carefully any lease document that is presented to you. Your broker can be a great help in this regard. Most conventional office leases consist of approximately 90 percent repetitive content that does not cover any specific tenant needs. Medical offices have dozens of special scenarios and each lease must be tailored to meet the specific needs of the tenant.
If you find a property you want and the owner provides you with a pro forma lease document, spend time with your broker checking it, line by line. Make sure all included items are acceptable to you. Also, make sure that nothing you need is omitted. If there were complex problems regarding parking, for example, verify that the document spells them exactly as you understood them.
Don't even attempt this task without your broker's assistance because lease "lingo" can be packed with legal terminology and real estate jargon that non-industry professionals don't understand.
What about landlord access?
Many conventional leases allow for intermittent landlord access to the property. In medical offices, this kind of openness might run afoul of the many privacy laws. Be certain that the language in the lease document addresses the landlord's legitimate need to see that the property is being used properly. Also make sure that your needs are met, in terms of maintaining patient privacy. Your broker can help you negotiate these terms by giving the landlord access by appointment or during specified hours during the evening, for example.
Are you shopping for an "exclusive use" lease?
Inform your broker if you want a lease for exclusive use. That means that the owner will not be able to rent any space near their direct competitors. This is a common requirement that many medical offices have and it is a good idea if you do not want to end up face to face with another medical office that is trying to take away business.
Let the Experts at Macy Newman Locate Your Ideal Office Space
When you need a space for medical offices in Dallas, TX and are ready to see your plans take shape, contact Macy Newman. Our team of experienced professionals can help you locate properties based on exact specifications because we have access to more listings than any other source, even private ones that other brokers have not even heard.
We help anyone who needs medical space. The more unique requirements, the better. Call us today at 972-392-3611 and let our top-notch property procurement team swing into action. We can even lead the design-build process if that's what your needs include. It doesn't matter whether you are looking to build new or renovate a current property.
At Macy Newman, we have the experience, connections and know-how to meet your most exacting medical office space needs. We take everything into account when setting out to help our clients. That means no matter what your budget is, what length of lease you're searching for, the location you desire or the features that are at the top of your "must-have" list, the Macy Newman team will get it done.
Our local office is located at:
5910 N. Central Expressway,
Ste. 1875, Dallas, TX 75206
Feel free to drop in, contact us through our website or call. It's our pleasure to serve you