15 Questions to Ask Yourself before Choosing an Office Space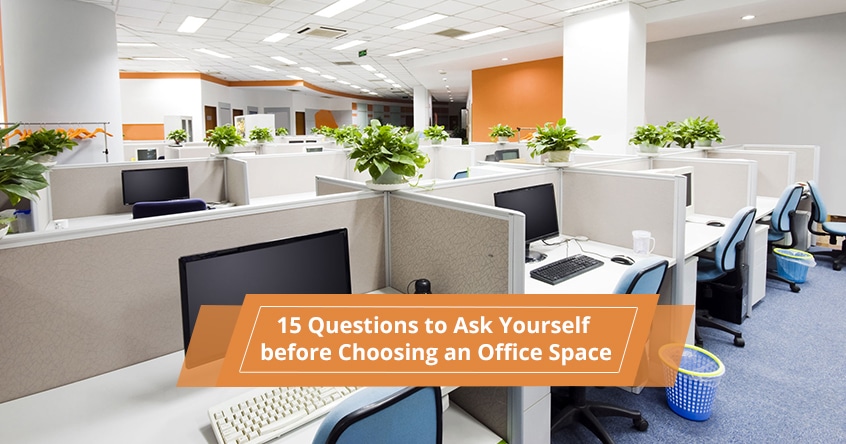 Selecting the right office space is crucial to your business. This is why there are so many things to consider before making a final decision. Focusing on the present needs of the business is not enough. You must consider what your company will need in the future in order to be successful.
Location is just one of the considerations. There are many factors that come into play when choosing the right amount of space and the location for your business. Ask yourself the following questions when considering your options to help you make the right decision.
How Much Space Do You Need?
The amount of office space you will need can be difficult to determine. It will depend on how many employees you have and the space you need for your office. Are there employees that require a separate office? The rental amount of commercial property is generally determined by the square foot.
Recommended amounts can range from 125 square feet to 175 square feet, according to the responsibilities of particular employees. On average, more is needed for presidents and vice-presidents of companies. It is a good idea to add extra to the amount that you calculate. Since signing the lease will commit you to the amount initially chosen, this will ensure that you have the extra room needed as your business grows.
Can You Afford It?
Affordability is one of the major concerns when renting office space. Comparing what other offices in the area are charging is one way to ensure that the price is reasonable. When deciding whether you will be able to afford the office, you will need to take into consideration that the rent is not the only expense.
The utilities may or may not be included. There will be other costs that are generally the responsibility of the tenant, such as maintenance, cleaning, and insurance. Keep in mind that some expenses are not foreseeable. You will need to set some money aside for these expenses.
Is it the Right Location for My Key Employees and Clients?
Employees that are crucial to your business may not want to commute a long distance each day. You should consider how close the space you are considering leasing is to where they live. Rather than travel long distances, they could decide to seek employment nearer their home. Additionally, you will want to choose office space that is centrally located to make it easier for clients to access your business.
What Type of Businesses and Organizations Occupy the Other Nearby Office Spaces?
Before choosing to lease a space for your office, check to see what other businesses are located in the same building or nearby. If your business provides accounting services, the competition could be fierce if you locate to a building with several other accountants. If you provide services for other businesses, you can benefit by being located near them. Making things easier for your business can mean the difference between success and failure.
Is the Office Space Located Near Stores (Banks, Post Offices, Daycare, etc.) and Other Necessary Conveniences for You?
Renting office space that is near conveniences that you use on a daily basis can save you time and money. It is also a plus for employees and clients. Consider all the services you will be using each day. Banks, restaurants, office supply stores, and daycare, if you have children, are just a few. Being located near major highways also provides convenience for clients. It makes it much easier for them to access your services. Depending on the services you offer, you should be in close proximity to businesses that you deal with daily. For example, a doctor's office should be near hospitals.
Are There Hidden Costs I'm not considering?
There are hidden costs when renting office space that you may not be considering. The cost of leasing the space is just the beginning. Some of the expenses you will need to find out about before committing to a particular property are:
Moving expenses
Restoration (if necessary)
Utilities
Cleaning and maintenance
Insurance
When renting commercial property, some things may be included. The rest of these expenses will be the responsibility of the leaseholder. Add all of these expenses to the rental amount to see what you will be paying each month.
Is There Parking Available?
How much parking is available for the office space you are considering? Many commercial office buildings have parking garages. If it costs to park, employees and customers may find this is an expense they do not want to pay. You can validate parking for both, but this must be part of your overall budget. If there is a parking lot, are there enough spaces for employees to park in a designated area? This would allow customers to have the spaces that are more conveniently located to your business.
Is the Space Presentable/Furnished?
When renting office space, you will want to consider the appearance. Does it make a good first impression? Is it professional looking? Your space will reflect on your business. Make certain the commercial office that you are considering leasing is tasteful and provides visitors with confidence in your business. A shabby, run-down exterior and interior tells potential customers that your business is not doing well.
If the space is furnished, you will need to take a good look at the furnishings. If not, choose furnishings that fit your business. An attorney's office should be more professional looking than a business that caters to families. In this instance, you will want to take into consideration that small children may visit your office and provide appropriate furnishings to make everyone comfortable.
Would I Consider Sharing an Office?
Perhaps one of the most advantageous decisions for start-up businesses is sharing office space with another company. It allows you the opportunity to grow your business effectively and affordably. If this is something you think would be a good fit, make sure you have a rental agreement in place. You will also need to see how long the lease for the shared space is in effect. Another beneficial aspect of sharing space is when more room is needed, there is generally space without the need to move to new offices in another location.
Is There Room For You to Expand?
When choosing the amount of commercial office space needed, you must consider how much your company may grow over the next year. Your lease will be for a specific period of time, and you may need the additional room before the lease expires. Therefore, you might want to try for a shorter term lease or include a clause in the lease that says you have the option on additional space within the building when it becomes available.
Do They Offer Electricity/Wi-Fi/ Phone/Security System Services?
Depending on the type of commercial office chosen, it is possible to have many services included in the lease amount. However, many do not include electricity, phone, Wi-Fi, or security. This is the responsibility of the tenant. You will also need to think about how much you will need to spend on any other services that are vital to your business.
The rental cost of an office is usually figured in a set amount per square foot. You will need to estimate the cost of the services that you want and add them to the rental cost to get the total for your monthly lease. Landlords typically have a good idea of the cost of utilities, and you can get estimates for other services.
What Signage Opportunities are there?
The signage outside a commercial office space plays an important role in helping customers find your company. There are generally three types that can be advantageous to businesses.
1. Eyebrow
2. Building top
3. Monument
Is there room for signage outside of the office space you are considering? Many businesses prefer building top. Located on the top of the building, it is visible for a long distance. This type is usually for tenants that lease a floor of a building or several offices. Monument type is located near the entrance and is good for a building with several tenants. Eyebrow signage is also near the entrance and is larger, so that it can easily be seen.
Who is Responsible for Maintenance?
Before signing a lease for a commercial office, you need to clarify who covers maintenance. General maintenance, such as keeping your space clean and in good shape, is going to be the responsibility of the tenant. The tenant may also be required to repair things including:
Lighting
Carpets
Fixtures in bathrooms and kitchens
The landlord is generally responsible for the major systems. This includes the HVAC system, electrical, structural issues, and fire and safety code compliance. Make sure the lease is clear on who is responsible for all maintenance issues.
What if I Sell My Company During the Course of the Lease?
Including a lease assignment clause can be beneficial if you decide to sell your business. This is an agreement that transfers your obligations under the lease to the new tenant. Some landlords may try to add a stipulation that holds the seller responsible for rent and other costs if the buyer stops paying. Negotiating everything under the existing lease and ensuring that you are protected is important if you decide to sell your company. If the lease assignment is not clear about these responsibilities, you could be liable for unpaid bills in the future.
What are the Leasing Agreements if You Have to Break the Lease?
Most businesses do not lease space with the intent of breaking the lease anytime soon. Once the lease is signed, you are obligated to pay all of the rent for the term of the lease. There is an exception that you should consider before signing. If you think for any reason that it may become necessary to break the lease, you should have an option included that provides for this situation.
If possible, see if the landlord will agree to allow you to sublease the space for the remainder of the time. Another option is buying out the lease. These options must be included in the original lease, because the landlord is under no obligation to allow you to break the lease without consequences.
Finding the right commercial office can be affordable. Make certain that employees are comfortable and have the right amount of space to perform their work. Choose a space that does not have excessive overhead and is located in an area that is accessible for you, employees, and customers.